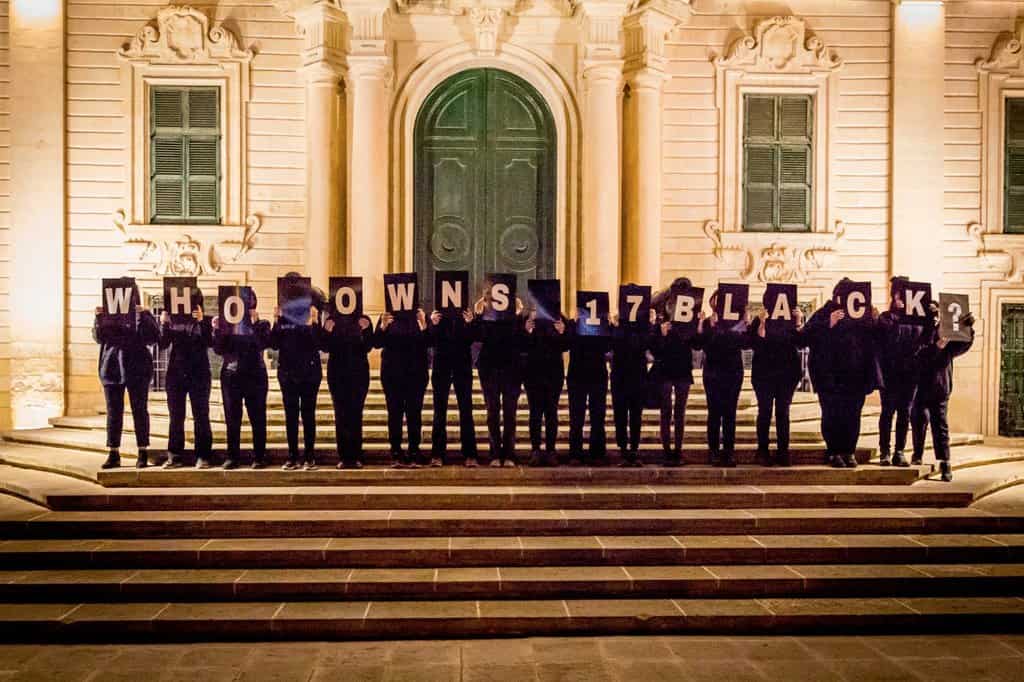 Statement by #occupyjustice:
Seventeen women clad in black stood on the steps of Castille, the office of Malta's Prime Minister, holding cards reading "Who Owns 17 Black?" to mark seven months since the assassination of the journalist Daphne Caruana Galizia.
The protest, carried out by #Occupyjustice activists, was in clear reference to the mystery client company which was feeding €126,000 every month into the secret Panama companies of Minister Konrad Mizzi and the Prime Minister's Chief of Staff Keith Schembri.
"We came to Castille with our question, because it is now clear to all, except maybe the Prime Minister himself, that the web of corruption is based here in his very office. And now more than ever he must go and take his two sidekicks with him," #OccupyJustice said.
The group said that when a fortnight ago the German paper Süddeutsche Zeitung, showed the 17 Black connection to Mizzi and Schembri, instead of firing them, the Prime Minister organised a mass meeting to plug his adulation.
"We now have it documented black-on-white that the Prime Minister's closest aides set up a money laundering structure in order to receive illicit kickbacks. And what's the Prime Minister's reaction? Nothing! He is saying nothing at all, hiding behind a magisterial inquiry which he did not even open himself," #OccupyJustice said.
The group of activists led by women, said that everyone was asking who the mystery owner of the 17 Black company was. "So we're telling everyone that this is where you have to come to get an answer – to Castille. Because it is very clear that the Prime Minister has vested interest in not taking action with regards to these shocking mafia revelations which are killing Malta's reputation."
"We will keep on fighting to save our country from being hijacked by mafia crooks and we will not rest until justice is served," #OccupyJustice said.
#OccupyJustice said they are determined to fight for what is right, for justice and for a fair and equal society.
"This is our nation, this is our home, and we are the people. We expect better, we deserve better, we demand better."