At the inaugural European Leadership Awards ceremony in Brussels tonight, Euronews and the European Business Society presented a special Contribution to Society award to the family of Daphne Caruana Galizia. The award commemorates her work in the area of investigative journalism.
The award was received by Matthew and Andrew Caruana Galizia from European Parliament President Antonio Tajani.
"It's unacceptable that a journalist be murdered in Europe," Tajani said, adding that the EU is "committed to defending the freedom of the press. We shall never forget Daphne and her work," he added.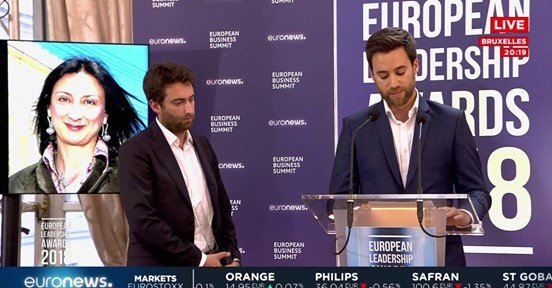 An emotional Andrew Caruana Galazia denounced the assassination of his mother as an "unmitigated disaster for press freedom in Europe," adding that the failure to bring the people behind the killing to justice showed the "institutional powerlessness in Europe."
He also thanked the European Leadership Awards for "protecting" his mother's legacy by honouring her work.
Watch the acceptance speech by Andrew Caruana Galizia here or read it below. Prepare to be moved.