Karol Aquilina filed a formal objection at the planning authority against the giant Silvio Debono project in place of the old ITS building overlooking St George's Bay.
Just filed formal objection with @pa_malta to the proposed @dbseabank project on ITS site in St Julian's, a project designed to line the pockets of greedy developers at the expense of Pembroke's residents. @FAA_Malta @DinLArtHelwa https://t.co/xHlmxeFia7 pic.twitter.com/lMujHS8pHo

— Karol Aquilina (@KarolAquilina) May 23, 2018
Under normal circumstances that would be a standard opposition objection to a project the government is backing. That's what oppositions do. Even when MPs may personally have mixed feelings it is normally the call of duty to register an objection and be seen to be fighting the proposal neighbours and stakeholders want so much to have turned down.
Dialectic feels necessary when a decision like this is taken. You need to hear all sides of the story and perhaps there are mitigation measures that can be thought off that could ease a bit the pain.
Therefore it should not in principle surprise anyone that an opposition MP has staked his claim to a front row seat in the room when the permit is discussed.
But there are complications.
The process itself is a bit of joke. In the older days you could complain that objectors would rarely get their way if the application was in conformity with planning policies in place. But almost all agreed that by and large they could get their objections heard.
The recent gate crash of Graffiti at a planning authority meeting represents a wider popular view than Graffiti are used to represent. You don't have to be an economic nihilist to agree with them that the public hearings process has become an act of ritualistic formalisation of pre-determined conclusions.
The specific St George's Bay project is loaded with even further pre-determination. The developer has already successfully jumped over hoops that should have been even unlikelier than the challenge of getting the biggest building ever approved for construction in an already suffocating and dense square mile.
Getting the publically owned land with a former public utility scope (training new workers in the tourism industry in the location where they need to be learning) to transform it into an entirely profit-driven private activity that does not tick even one of the boxes of economic and industrial characteristics identified as appropriate for state assistance: that was a steeper hurdle.
Perhaps I should explain. Private profit is supposed to be the return on private investment. But economic planners would rather private investment is prioritised in such a way as to do more than maximise the returns for the investor. There's a wider economic view and a broader aspiration for where a community wants to go: higher value added; better paid jobs; improved balance of payments; international competitiveness; economic sustainability; better quality of life; ecological balance; reduced carbon footprint; enriched architectural legacy: those sort of things.
Investors cannot be expected to think of all this, let alone pay for it. So government directs whatever resources it has to help the right choices to be made.
Nothing is more valuable in the Maltese government's limited arsenal than the value of land, especially land as valuable as the hill towering over St George's Bay.
The project far from ticks all logical policy expectations. It goes in a direction that sensible and sustainable economic, social, infrastructural and environmental planning should not be taking it. Of course within reason business people should be allowed to make their own choices.
But this one, and here is the rub, is being delivered with the direct aid of the government granting land for less than what it would reasonably cost in the market.
That is a political problem. For a while that was on the national agenda. And for a while after that it slipped out of it.
Karol Aquilina's objections at the planning authority are beyond the policy considerations of the aid of the state for economic activities that do not have a public utility and a national strategic desirability. Beyond, because that matter now appears closed and superseded. But also paradoxically it is beneath the broad considerations of national need.
The planning authority is expected to hear views on the aesthetic appearance of the design of the building. To keep it simple, will it be nice? Will it be attractive to look at, something to admire when you see it from a distance or when you come up close to it.
It is not going to be a parliament house but considering the melodrama over cheese-graters, does it hurt if the most expensive and grandiose edifice our country will carry is a pleasure to behold?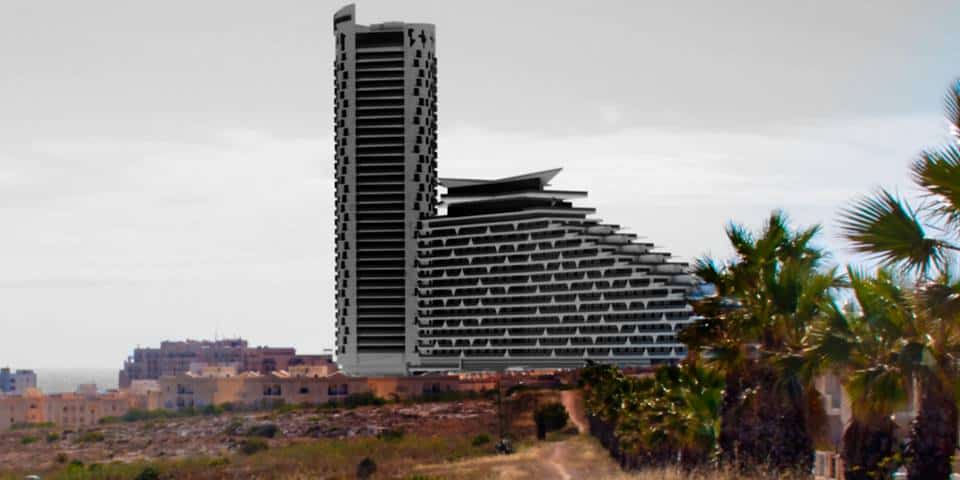 What impact will it have on its surroundings? Can the infrastructure handle the demand it will create? Will neighbours' lives be impacted by it: its shadow, its light, its density, its traffic of people and vehicles, its noise? Certainly they will be, but how and is the extent acceptable and mitigated?
These are all important questions but they're all being asked when the most important decision of all – the price for which public land would be granted for this project to be built upon – has already been decided.
That creates an air of inevitability over the proceedings.
As does the other hope the developer has already been over. The properties within the property, the carved out portions in space as yet the home of air and low hanging clouds, are priced and in some cases sold.
When people object to this initiative, they do not object to a proposal, they object to a done and dusted transaction; many transactions already sealed.
It is all already done.
Faced by this you have a Karol Aquilina option of going through the motions and filing an objection against something that has already happened or to burst in like Graffiti and shout the process down for the inexorable sham that it really is.
In the current environment, where there exists almost no hope of having one's view heard against the behemoths, both routes are in reality a form of protest.
Nothing could be more symbolic than the legal action started by the Kamra tal-Periti, Din l-Art Ħelwa and Flimkien għal Ambjent Aħjar who sued the planning authority for stepping out of the powers conferred to it at law when it authorised the knocking down of the old Sea Malta building in Marsa.
That building is gone. But the three NGOs feels the point should still be made anyway.
In the midst of all the futility there is a sense that some must still tilt at the immutable windmills that cloud our view.
There's another complication in Karol Aquilian's formal objection at the planning authority. The PN, formerly vociferously opposed to the decision to grant public land for this development on the terms granted, now appears to have classed this case as one of the pointlessly negative campaigns that add nothing to the strategic advantage of the PN.
Why should an opposition party indulge in futility? What value is it to anyone if these are windmills we are tilting at and this will happen with our without the PN's protest, Karol Aquilina's objections and Graffiti's gate-crashing?
In that thinking is one other greater hoop Silvio Debono may have very well jumped through ahead of acquiring his planning permit.