A family of a policeman is going through unbearable suffering. He was doing his job directing traffic and a young man tried to kill him. I'd have to say allegedly tried to kill him of course, but his arrest and arraignment though not a prejudice to the presumption of his innocence are manifest and reasonable suspicion.
Even as we wait for due process we can see what happened here and it is right that we start forming feelings around it.
I wrote this morning – yesterday actually but the site went down so I could only post this morning – about the almost universal reaction of shock, disgust, anger and sympathy. And I remarked about the perversion of the few who rejoiced at the incident presumably to attract attention to themselves and provoke a reaction.
I should have expected Labour would see this as an opportunity, ammunition in its effort to silence its critics. I should have expected it but I did not. Because as much as I still feel shock when I see some slime-ball writing more policemen should be run over in the street, I still felt shock when Labour grandees used this incident for entirely unconnected political ends. I suppose it comes from an unforgivable preference to assume people are predominantly good. I should really know better.
Earlier today Labour Party officials and hangers on launched a fascist campaign accusing civil society activists of somehow causing the attempted murder of a police constable.
This is a comparable equivalent to blaming the burning down of the Reichstag on political opponents.
It is utterly revolting that politicians and their servants who deny any connection between 30 years of demonization they have perpetrated on Daphne Caruana Galizia and her assassination would then connect legitimate protests against corruption and a collapse in the rule of law with an attempted murder that, entirely reprehensible and condemnable as it most emphatically is, is in no shape or form a political incident.
Every day that passes the desperate willingness of government apologists to resort to ever harsher tactics of repression drags the environment of democratic discourse in our country down ever darker depths. It surprises me even now that Joseph Muscat's government is willing to exploit the understandable anger at this attempted murder, which I wholeheartedly and obviously share, to direct the threat of violent reprisals on civil society activists.
Marlene Mizzi was first to throw the gauntlet.

She would later try to retract it but we've seen this sort of mis-en-scene before. Their go to guy for these outrageous remarks used to be Joe Grima who has since died. Then Tony Zarb became henchman du jour though eventually the novelty of that, if nothing else, wore thin.
Now Marlene Mizzi, desperate for column inches ahead of the MEP elections, gleefully takes on the task, working hard to suppress what must have been her intuitive disgust at exploiting the attempted murder of a police constable on the traffic beat on protests against the inaction of the police chief and his sidekicks in cases of political corruption.
Of course the trolling army marched on. Here's Karl Stagno Navarra showing a picture of protestors outside police headquarters like a propagandist promoting the notion of collective guilt.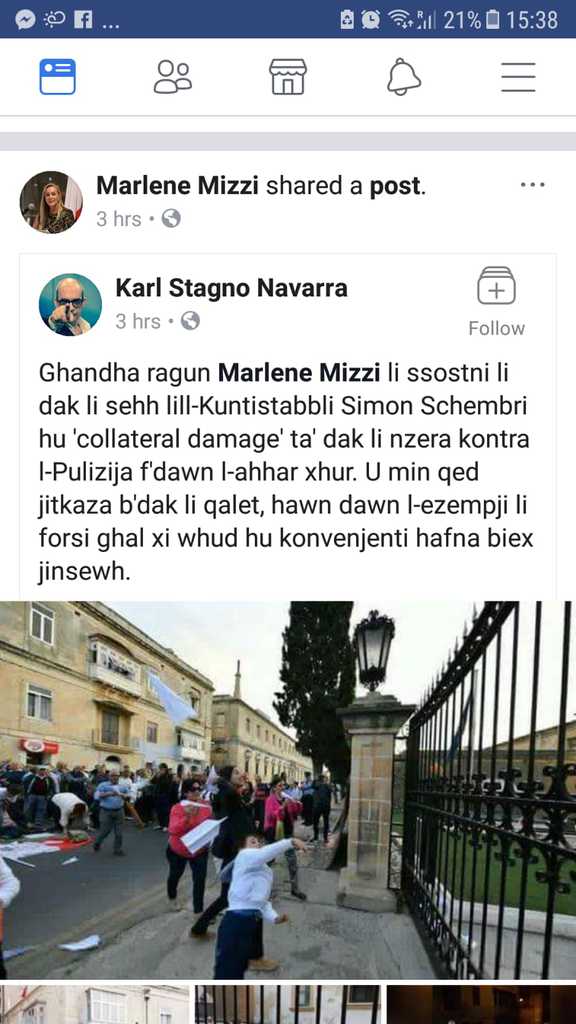 Why is anyone in that picture in any way responsible for that driver now in jail for attempting to kill a policeman? How is anyone connected to him? Would the man now lying broken in a hospital bed have suffered the same sort of wounds if hit by the paper planes you are showing in this photo being tossed in the direction of no one at all?
Today a suffering family whose father and husband lies massively wounded, uncertain of what future may be ahead of them, is made to suffer even more as he is transformed into a weapon in the hands of a ruthless government now grasping at anything that comes its way to use as ballast to crush dissent.
How utterly appalling they are.